I'm sorry to say that I'm selling my collection.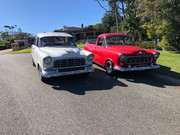 Fe Ute and Fc standard sedan.
Ute is pretty standard Wayne Xerri old build. FA rust.
Sedan New motor cammed jack myers headers Speco manifold and tappet cover. Pearled steering wheel Camp seat. Dragways. Bugger all rust.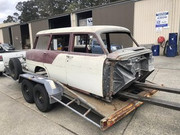 Station sedan. Some rust. Needs sills. All supplied. Have the majority of parts. Bagged. Will need full resto obviously. Has tilly kit.
Have sub frames x 2 at least 3 fronts 2 ends rear ends Sapre rear doors. Other panels have surface rust.
Loads of parts. models, tools. Sand blaster, Brand new welder ( flood insurance claim) Manuals Fe x 1 Fcx 4 Masterparts catalogue Chrome set rechromed for sedan.
Fill set of chromies deep dish . new tyres. Full set standard wheels new tyres 1 x Fj grey motor for rebuild. I x B block grey in psrts. Has been rebuilt but was making a noise in the 3rd pushrod. Its also mildly cammed. Its in parts. Brand new set of push rods.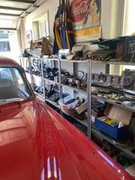 Viewing essential.
Loads of other parts. Call me to discuss. 0432520373. I want to sell a job lot. Not looking at making this process protracted.
Contact me if you are interested. I am into these for a least 50K from my calculations in my costs to this point. Any offers above highly considered. Given what some people are asking for a single car I'm definitely in the ball park i think.