Well, the Crater Critter was campaigned by dairy farmers Bob Buchanan and Allan Gamble, so not Bruce Martin who is mentioned in the above article.
The article you posted a link to is from a Jan '69 Rod sports mag and in that it states that the critter ran in the 14's.
There is an uncaptioned photo in the '68 Hot Rod magazine which I suspect id the Martin altered Holden. Check out that cool driver position.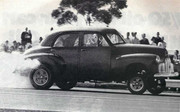 Regards
Alex